Principles of Human Resource Management:
Create opportunities and platforms for practical and talented people,
Reward strong performers.
Talent Management Model:
Provide career opportunities to gather and retain talents,
Allow talents to put skills into practice,
Develop effective incentive mechanism to motivate talents,
Use legal mechanism to guarantee Talents'benefits.
Guidelines:
Create opportunities,
Cultivate talent,
Offer incentives.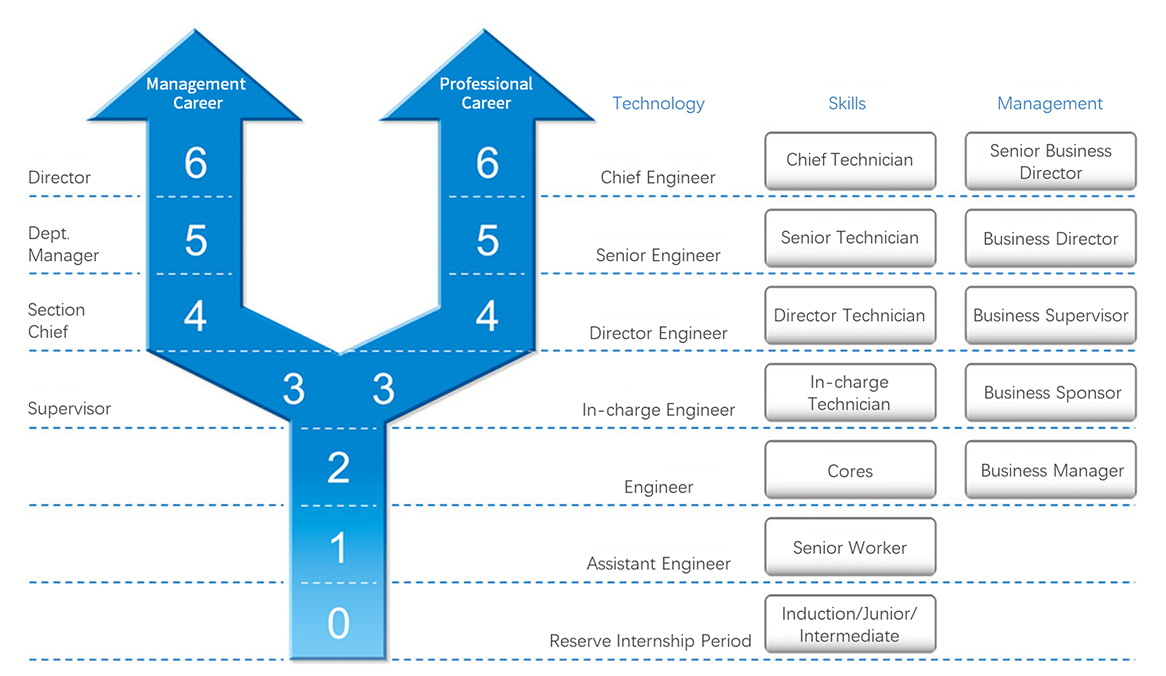 Management

Technical

Employees who focus on the development and breakthrough of professional technical capabilities can choose to continue to develop within a certain professional channel.
The company has established specific quantitative indicators and ability requirements on each step of the professional development channel, including three aspects: professional experience, professional results, and quality/ability.
The company organizes the evaluation and appointment of professional rank personnel every year.
According to the assessment results, the company will provide opportunities for capacity training and development according to the different situations of the individual.
Employees who are interested in realizing their career dreams in the direction of team and personnel management, after completing the accumulation of basic professional abilities, can choose the management position development channel.
Companies in accordance with the qualification requirements of the corresponding position (including academic/professional title or vocational qualification, work experience, comprehensive ability),
Annual performance for promotion/demotion or adjustment of ranks.
A Happy Workplace to Grow your Career
Every employee is an invaluable asset of Highly. Highly has been investing in employer branding to create an inspiring workplace, support employee career advancement and tap into the full potential of every employee.

WeChat